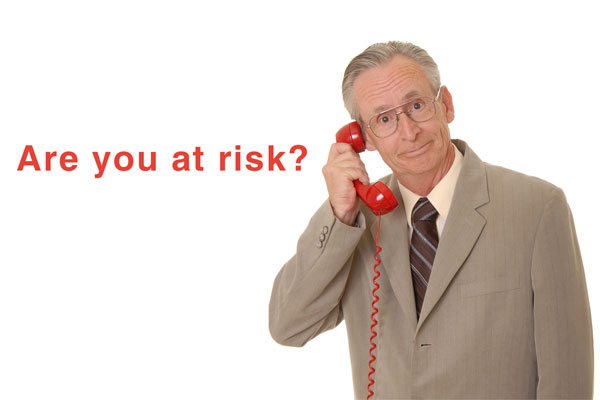 Just Say No to Saying Yes to Telemarketers
Thursday, May 11, 2017
We have all become quite used to the warning that prefaces many business telephone communications such as this one, "Please note; this call may be recorded for training and quality control purposes." Now, however, scammers are recording your voice with the intent to get you to say just one word; "Yes."
Oh no!
The reason for this is because it has become commonplace for many businesses to use recorded agreements while dealing with customers over the phone. If, for example, you're talking to your telephone service provider and decide you want that upgraded data package they're pushing, the phone company representative may very well ask you to say the word, "yes", as a verbal "signature" to the agreement which was struck. Often the customer service rep will even get a supervisor on the phone to get an "ear witness account" to ensure the client did, indeed, agree to the terms discussed.
So what's the problem?
In the past, this recording technique was used by scammers to "force sell" office products to businesses. A smooth-talking sales person would try and get unsuspecting secretaries and receptionists to say the word, "Yes" in order to create a false recording of the agreement to buy the aforementioned office supplies. When the invoice is past due, a collections person would call with the false recording to "prove" a contract had been freely entered into and payment was now required.
Those poor secretaries!
Now however, this scam is being perpetrated on homeowners, rather than just businesses. The calls began in the US but have now been reported in Alberta, as well. In this form of the scam, shady individuals call homes to get verbal agreement on a sketchy offer, then the caller uses trickery to get agreement. They even say things like, "Can you still hear me?" hoping to get that all-important "yes" soundbite.
According to Ron Mycholuk, spokesman for the Better Business Bureau of Central and Northern Alberta, there have been over 2000 complaints about this scam from consumers across North America.
Coming soon to a telephone near you
"We don't yet know where this scam will proceed to, and the best way we can educate people about any sort of scams is information," Mycholuk said. "But it's also about educating people on where and how their information is being used and shared online by various companies."
The BBB representative is telling people the best way to protect themselves is to always be suspicious of numbers you don't recognize and to report any activity which sets off alarm bells for the consumer. It is also prudent to get company names and have them added to the no-call registry.
Mycholuk added, if you think you have encountered this scam, it is wise to advise your credit card companies and any banks you deal with, to monitor your accounts for suspicious activity. 
AAAK! What should I do if they call me?
The safest approach to take if you believe a scammer is on the line is to simply hang up, said Mycholuk.
 "If you don't recognize the number, don't answer. And if you do pick up, and they instantly start asking, 'Can you hear me? Are you there?' Don't say anything. It's fishy, don't fall into the trap."