Wednesday, June 07, 2017
Unless you have been off-planet for the last year or so, you must have seen the Skittles advertisement featuring the poor, unfortunate youngster with colourful candies stuck to his skin, suffering from "Skittle Pox". A young female friend removes one of the Skittles affixed to his face and eats it. She then asks her confection-afflicted friend if Skittle Pox are contagious, only to be suddenly covered in them. It's hilarious stuff which has helped to propel the confection into the much-coveted top spot in sales of non-chocolate candies in North America. (Numbers two and three happen to be Lifesavers and Twizzlers respectively.)
Taste the Rainbow - When Sweet Goes Sour
The entire Skittles marketing approach has been one of edgy humor. The trouble with this that biting humor can bite back, as Skittles' Mother's Day ad did. It featured a woman on a couch eating Skittles while her bearded adult son still connected by a large umbilical cord, who comments on the various flavours. The "ewww factor" was off the charts and the ad had to be pulled.
Oh Dear!
Such is the nature of advertising with humor; it's like using an outhouse...when it's good, it's great but when it's bad, it can stink to high heaven. Pushing the bounds of what is politically correct may yield great dividends but you need to prepare for possible social media shaming, boycotts and lost sales if a joke falls flatter than a steamrolled cartoon character. We all love yucks that push the boundaries but we all have different boundaries which makes hitting the "sweet spot" a challenging gamble.
So why do it?
Given the risks associated with humorous ads, it is a bit surprising that any brand would take a chance on tarnishing their carefully protected public image. However, more and more businesses are crowding the "good taste" line because the rewards are significant. Unfortunately, bland, safe jokes never work but effective ones; gags that people instantly relate to, are the Holy Grail of Internet marketing; the viral ad. A successfully funny commercial can reach millions of people through organic reach at a fraction of the cost of TV spots. When friends share their favourite memes, the effect is powerful.
How Tweet It Is
Of course Skittles doesn't have a monopoly on edgy advertising. American-based fast food giant Wendy's uses some fairly over-the-top comedy on their Twitter feed; pushing the parameters of what is considered politically correct.  It obviously is working, given the 1,890,000 followers the chain can boast. That is almost 2 million people actually choosing to have Wendy's advertising tweets on their timeline.
advice for the adventurous - Using Humor in advertising
Understand your demographic. Selling Depends undergarments using hipster humor, for example, will get you nowhere. Research what your target market is already consuming and finding funny.
You have to be prepared to laugh at yourself if your jokes miss their mark. In the event of a fail, own up and move on.
If your brand takes on a humorous persona, (think Old Spice Guy) make sure the humor is consistent and spans all your marketing channels.
A humorous marketing thrust works well for reminder advertising but not for explaining a product or its advantages.
If you hit a humor homer and an ad goes viral, look at what made it successful and try to repeat it but do not ever tell the same joke. A major drawback to humor is it gets old fast. Fresh material is needed more often than any other ad style.
Avoid controversial topics. Digiorno Pizza made the mistake of using the spousal abuse hashtag #whyistayed in an attempt at light-hearted humor that fell with a thud.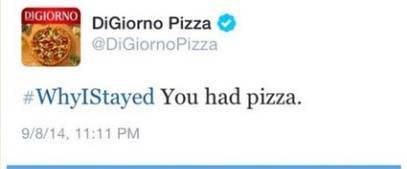 The Punch Line at the End
Humor is indeed a powerful motivator to encourage people to share your content with their friends and broadcast your message widely, inexpensively and effectively. It is dynamite as a marketing tool but like the TNT Wily Coyote buys from Acme, it can blow up in your face. Don't say you haven't been warned.