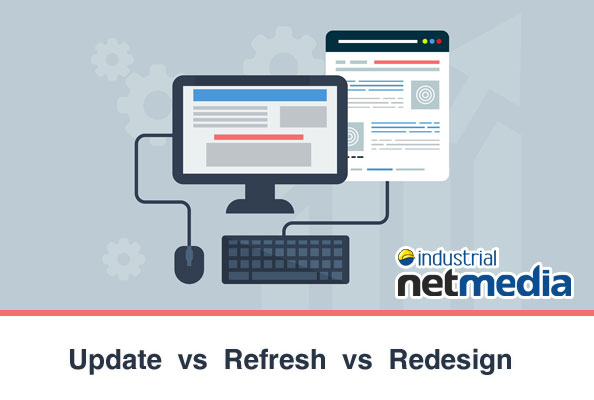 Update vs. Refresh vs. Redesign: Which Do You Need?
How to tell what your website needs.
Friday, May 24, 2019
We've been talking a lot lately about some good practices around keeping your website up-to-date, relevant, and ranking well on search engines. And while keeping your website up-to-date and looking fresh is absolutely important, we have had a number of calls in the last few weeks from people who just don't know what they should do. Let's see if we can help.
There are a number of questions we would ask you if you were to approach us with this dilemma. We, as your web-design engineers, would need to determine exactly how we find an effective - and of course affordable! - solution for your specific circumstances.
How Long Has It Been?
The first, and most obvious question would be to determine how long it's been since the last time you updated your website. There can be a pretty huge spectrum here, anywhere from "last Thursday" to "what year did Netscape come out?". Of course, the amount of time since you did an update doesn't automatically determine what needs to be done, but it can certainly give some perspective on what might be needed. As little as five years ago, for instance, the priorities for being ranked on a search engine were completely different than they are now, and virtually nobody gave any thought at all to ensuring their site was verified with a security certificate. Today, getting just those two details wrong can result in your site being virtually invisible to most searches. A site that has gone more than 5 years without an update will likely need a significant bit of re-working.
How Well Is It Working?
Is your site the backbone of your business? If it is, the old saying of "if it ain't broke, don't fix it" certainly applies. That's not to say that everything we said in the previous section isn't still relevant; there may be things that still need to be polished, but you want to make sure you're not damaging your existing business with any changes you make, so it should be a slow and careful process, best handled by experts. Of course, at the opposite end of the spectrum, if your site isn't really doing anything to help your business at all anymore, then perhaps it's time for a totally fresh approach.
Do You Love It?
This might seem silly, but it's extremely relevant. Any web developer can tell you of the many times one of their clients has asked for something completely new, completely different, a total overhaul; and then weeks later after much back-and-forth, the client ends up wanting something almost exactly like what they had previously. So it matters; do you love it? If you do, plan for minor changes, some simple updates. If you find yourself admiring other sites with envy, then it's time to change it up.
What's Your Budget?
It's the most crude of the important questions, but it's also arguably the most critical. None of the above matters if your dreams outpace your budget. As a business owner, you need to be realistic about the scope of work you can afford. Luckily, Industrial NetMedia has a lot of new ways to help with that. Including our new sister company, Creative101!