Photo: Words to Live By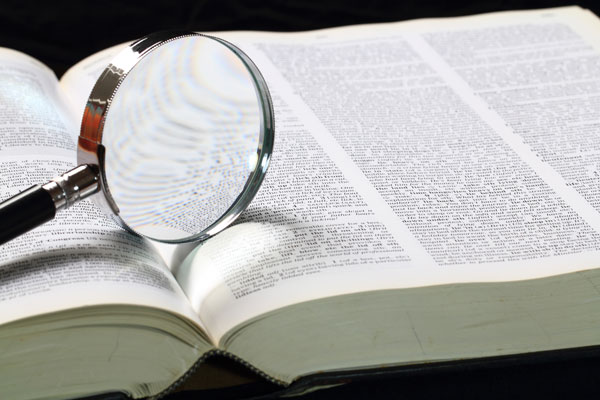 Wednesday, January 21, 2015
Human resource management is serious business and we at Industrial NetMedia are doing what we can to ensure it's not solemn as well. Please enjoy our light-hearted look at the HRD dictionary.  
A
Ability test: A series of questions or problems used to determine if the HR manager has the ability to give a test properly.

Ability: A competency that job candidates lie about on their resumes.

Absenteeism: The recognized 'ability' of an absenteeist.

Accountability: The ability to do accounting. Also, the understanding that there is no accounting for some people.

Achievement test: A standardized form designed to measure how well a candidate can fill out an achievement test. It does not take into account anyone's achievements.

Advisory Committee: A group designed to provide well-considered input for the express purpose of being ignored by management.

Applicant: A prospective future disgruntled employee.

Apprenticeship: Donald Trump's boat.


B

Baby boomers: The last cohort in existence to remember 'the good old days'. A declining resource, the youngest is already 55 and will likely need time off for a new hip soon. And new glasses. And dentures. It is advisable to downsize them ASAP.

Back pay: Money owed to an employee after screwing them over in some way. Back pay is generally followed by a concept known as 'pay back' which is a... well, you know.

Benchmarks: Initials carved into the bench the disgusting smokers in the company use around back of the building.

Bereavement leave: A cheap excuse for absenteeism (see above) that employees try and blame on deceased relatives.

Best practises: Everything our competitors are doing. Nothing we've ever tried before but we talk about a lot.

Branding: An effective deterrent for absenteeism if done with red-hot irons.

Budget: A work of fiction produced annually by the finance department.

Burnout: What the younger employees do with their car tires when leaving the parking lot on a Friday evening.

C

Career path: A difficult-to-navigate unmapped dirt road with no signposts or rest stops.

Career plateau: The flat part of your career path (see above) that is surrounded by career cliffs in every direction.

Case study: Researching your next laptop carrying bag.

Casual dress: Not at all like the slinky black number ladies wear to fancy restaurants. Way more frumpy.

Change management: What lousy sports teams need to do.

Child-labor laws: The only impediment to getting a cheap, easily-intimidated workforce.

Civil union: A marriage where the participants are always civil and never argue. They are rarer than albino wombats.

Coaching: Bossing people around without them noticing how bossy you are.

Collective action: Behaviours seen on Russian group-farms.

Communicable disease: The best argument for allowing staff to work from home so their disgusting, disease-ridden bodies don't spread their plagues at work.

Constructive discharge: Almost as popular as a pustule discharge, this refers to being such a jerk that troublesome employees will just up and quit. This effective downsizing strategy is unfortunately frowned on by labour lawyers and judges.

Consultant: A person hired to cover up the fact your company lacks the knowledge to do the job.
 
Corporate culture: An important ingredient in corporate yoghurt.

Counselling: What people need following a job in HR.

D

Daily work records: You're not paranoid, we really are watching you all the time.

Deferred compensation: An agreement to provide remuneration at a later date than normal. Pioneered by "Wimpy" of Popeye fame.

De-layering: What Canadians do when they get to work in winter. (See 'toque-head')

Delegation: Making someone else do something you don't want to.

Department of Labor: (See Maternity ward, midwifery, etc. )

Disability: A flimsy excuse employees use to get out of hard work.

Distance learning: Understanding miles versus kilometeres, for example.

Diversity training: Learning to treat all people equally shabbily.

Downsizing: Like dieting only not nearly as fun.

Dress code: A special code announced over the PA system when the sexy intern is wearing that dress with the plunging neckline.

Drug testing: A simple method for HR staff to identify people whom they can go to in order to buy drugs.

E

Early retirement plan: (See 'Downsizing')

Electronic monitoring: An effective tool of micro-managers and Big Brother, this practise allows HR to learn more about their employees than they care to know.

Emergency planning: Identifying who gets to hold the door for the management team in case of a fire.

Employee leasing: A great alternative to buying employees outright. Be careful of hidden damage deposit clauses if they become scratched or dented.

Employee relations: A bad idea, especially if you're already married.

Employee self-service: A solitary alternative to employee relations (see above)..

Ethics: A belief system used widely in business when people are watching.

Executive retreat: How bosses screw the pooch. In politics, they're known as "wasteful junkets".

Exit interviews: These are facilitated by a well-disguised trap door in front of the HR Director's desk. Buh-bye!

F

HR Departments aren't allowed to use F-words.


G
Gag clause: Santa's eccentric brother.

Garnishment: The condiments used on the hotdogs at the company barbecue. Creditors can force you to give up your mustard and relish.

Gender: Formerly a question on the job application with only two possible answers, it has now become a multiple choice thing. Welcome to the new millennium!

Glass ceiling: A good reason for female managers not to wear a skirt and go commando.
Grievance: Irrelevant whining by the staff. Pay no attention.

Gross salary: You saw my pay stub, didn't you?

H

Harassment: A complex topic that is difficult to understand every nuance of, but is easier to explain in private; say, in my hotel room after drinks...

Hazard pay: The money the Duke boys get annually.

Head count: One each.

Home-based worker: A backcatcher in baseball is a good example.

Horizontal integration: (See 'sexual harassment').

Human resources: All those annoying people that work here.

I

Illegal immigrant: A wonderful source of cheap labor that won't go whining to authorities if you decide not to pay them.

Image consultant: Selfie advisor. (i.e. 'You have spinach in between your teeth in this one.")

Incentive pay: A legal bribe to get more productivity from the lazy.

Industrial rehabilitation: The cure for Dire Straits' 'Industrial Disease'

Insubordination: Accurately describing individuals in leadership positions.

Intangible rewards: Examples of this include praise and recognition. It's way cheaper than paying bonuses.
 
Intelligence quotient: Don't worry. Most staff don't appear affected by it enough for it to matter.

Internship: A legal method of getting free labor in exchange for vague promises.

J

Job: That whale guy in the Old Testament. Not related to the rolling paper dude.

Just cause: Ending world hunger is one.

K

Key employee: The guy that locks up.

Knowledge assets: A good example would be a set of encyclopaedias.

L

Labor: An activity that uses ice chips and screaming to produce a baby.

Layoff: What I have to do with potato chips until I get under 200 pounds again.

Leadership: People who enjoy telling folks where to go.

Lost workdays: Workdays that you forgot in your other pants.

Lump-sum payment: The easiest way to get people to take their lumps.

M

Management: Those who know what they're doing or are in charge. They're rarely the same people.

Mean wage: A wage which is lowdown and nasty. (See also 'gross pay')

Mentoring: Like coaching (see above) only more trendy-sounding.

Metrics: It's all that stupid litres and Celsius stuff.

Minimum wage: What my boss has promised to give me a raise to if I excel at my job.

Mission Statement: A summation of corporate goals other than "Make gobs of cash."

N

Nepotism: A system of favoring relatives in business invented by royalty and perfected by North Korea.

Nondisclosure agreement: The modern way to buy someone's silence.

Notice: What your boss won't do no matter how hard you work.

O
Offboarding: A painful exercise similar to waterboarding.

Offshoring: Sending your job to some nice, warm locale instead of you.

Onboarding: 'Welcome to the company. Now enough chit-chat, get to work!'

On-call pay: A legal method of robbing employees of what's left of their free time.

Organization chart: A visual aid showing how far down the corporate ladder you are. Loser.

Overtime: Hockey that's played after the third period in a tie game.

P

Parental leave: An initiative to rid the workplace of sleep-deprived zombies.

Performance appraisal: A strategy of finding fault with employees to prevent pay raises and unfair dismissal suits.

Personal days: Sounds better than 'too hung over to go to work'.

Privacy: Expect the same amount of privacy in the workplace as you do on Facebook.

Probation: At least there was no jail-time.

Q

Quality control: The opposite of 'freakish control'.
Quit: A popular strategy to avoid being fired.

R

Rank order: 'I'll have the sauerkraut and sardines on toast, please.'

Recruitment: Strategies used to gain workers necessitated by press gangs having fallen out of favour.

References: A list of people willing to lie for a prospective employee.

Resident aliens: Citizens of Roswell.

Resume: Someone else's life flashing before your eyes for a change.

Risk management: Management often screws up. You sure we should risk having some?

S

Safety meeting: The safest place at work is in a safety meeting eating donuts.

Self-employed: Cover story for the out of work.

Semi-skilled worker: An employee who can drive an 18 wheeler.

Sensitivity training: Learning how to tolerate a bunch of whiners.

Severance pay: Hush money paid to employees who have severed a limb.

Skill: A type of saw used to get severance pay (see above).

Stakeholder: Van Helsing in the Dracula movies is one example.

T

Team building: A process by which you blow smoke up employees' butts.

Telecommuting: The only acceptable way of working naked.

Time management: In Canada, it is known as 'McLean's management'.

Trade secrets: I'll tell you one if you tell me one.

Transformational leadership: Buzzwords associated with 'blah blah' and 'yada yada'.

Turnover: A tasty pastry with a fruit filling.

U

Unemployment rate: Most of the unemployed rate it as "sucky".

Unfair labor practise: Death squads for latecomers would be an example.

Union: Just another group telling employees what to do.

V

Validation: How to get your parking paid for.

Vision statement: 'We don't pay for prescription glasses here.'

Volunteerism: Activities employees waste their life on when not working.

W

Wage curve: If you have curves, your wage will be higher than if you don't.

Wellness program: Taking away that whole 'I'm sick!' excuse for absenteeists.

White-collar employee: Staff that is careful to wash their necks properly.

Workforce planning: Probably a mutiny.

Y

Youth: Cheaper than experience but don't get between them and their phone.

Related Content You Don't Want to Miss