Because In Alberta, Giving Up is Not an Option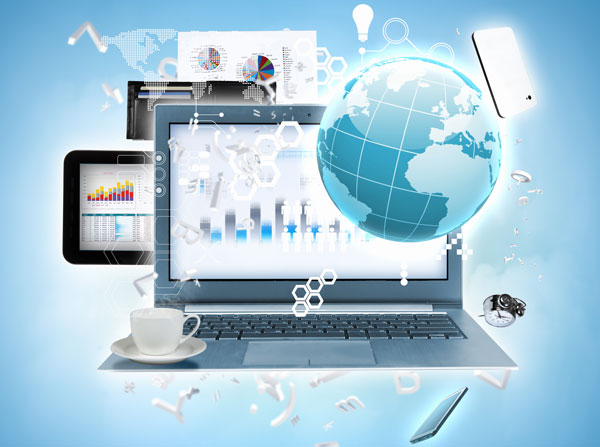 Tuesday, February 16, 2016
(INM) Alberta has been extraordinarily blessed with bountiful natural resources as diverse as the climate. Our province is also fortunate to be peopled by those with a diversity of talent, drive and a work ethic second to none. These Albertans demonstrate tremendous resourcefulness in their ability to wring profits from the good Earth; whether they till it, drill it, mill it or mine it. Despite this good fortune, however, our province is not immune to the vagaries of various markets, particularly those related to the oil patch.  You may have noticed that business has been slow and continues to cool down as people tighten their belts. Luckily, there is help.
Riding the Resource Ripples
In our region, when resource extraction companies hit rough seas, practically all other businesses in the province feel the ripples. Those firms that don't wish to sink need to ride the waves or risk being swamped, and the best way to remain afloat in an uncertain economic climate is to embrace Internet marketing. You need to be noticed by your potential customers more than ever before. They might not be buying today, but you certainly want to be remembered when they are ready.
This Internet thing... Is it new?
A situation that is working against many Alberta companies is that during boom times, many provincial enterprises were already running at or near capacity. They had as much business as they could possibly handle without doing any marketing whatsoever, so naturally, initiatives to expand public awareness of an already-busy operation weren't seen as a priority.
Having no marketing plan is understandable when the economy is humming along. When the bottom falls out, as it always does eventually, it leaves many firms unprepared. They have no strategy whatsoever to get their name out to new customers and are forced to play "catch up" with competitors who have maintained a marketing presence, even during the good times.
Guilty as Charged. Now What?
Businesses in this situation need to climb aboard the online marketing bandwagon as quickly as possible; and for many of these outfits, Step One is to get a company website. Here's why:
A website should be the basis of your marketing efforts. All other strategies should hinge on driving visitors to your website where you can show them how great your products and services are.
The competition is already there. In 2014, 53% of all small businesses in North America already had a website; up from 45% in 2009. Analysts expected a further 13% increase in website adoption for 2015, though these figures remain to be tallied as yet. When looking at medium to large businesses, the number of companies with a strong web presence climbs to close to 70%. If you want success in business, it helps to learn lessons from the hugely successful, and there is no doubt the hugely successful believe in the power of websites and social media platforms to promote them.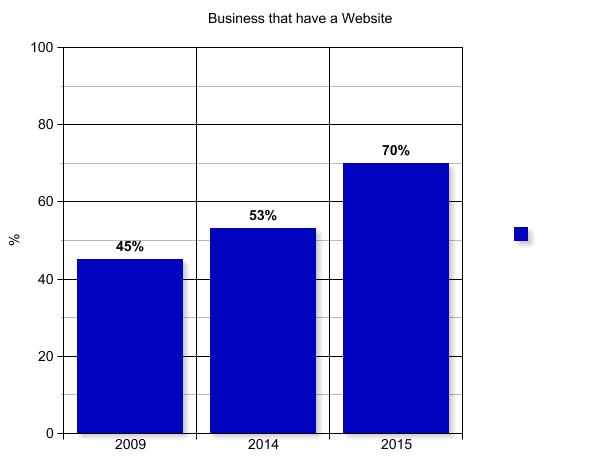 There is so much hard evidence that promoting your business website through tools such as Twitter and Facebook have made corporate social media a $24 Billion industry. Those large, successful companies understand completely the impressive reach these new marketing channels represent.  It seems apparent if you want to get public awareness for your business, you can't afford NOT to embrace online social marketing opportunities.
An astounding 97% of North American shoppers use the Internet to find and compare products and services. Of those, an impressive 91% have gone to a "Bricks and Mortar" (BAM) outlet to finalize a purchase that began as a positive online experience. If you have no web presence, your company will be excluded from reaching huge swaths of your potential market.
Also of note is that 73% of Internet product searches led to site visitors taking the experience one step further; by sharing the new information they gleaned on social media, calling the business, placing a new customer orders, or pursuing further contact, just to name a few examples. Can you really afford to lose out on all that commerce?
Am I Too Late?
Luckily, there's still an opportunity to take full advantage of a web presence even this late in the game. Although, as mentioned, a majority of all small businesses already have a website, many of those early adopters aren't maximizing the opportunity their web pages provide.
Here are some examples of why they are missing out in ways you can capitalize on:
An astonishing 93.3% of small business websites are not "mobile compatible". In other words, their sites are only usable on full frame monitors found on desk-top and laptop computers.  Having a website not designed for viewing on tiny tablet and smartphones screens means you're missing out.  This is because, according to the Global Web Index, 80% of the people who use the Internet do so from a portable device. Additionally, 40% of mobile device owners access price comparisons and product reviews while shopping in person. The choice is clear; optimize your site for mobile access or lose out on business. In May of 2015, Google started penalizing websites that were not mobile responsive. Google started ranking non-mobile responsive websites lower in the search results. Can you afford to have that happen to your business?
70% of company websites are missing an essential component to customer engagement; a Call to Action field. (For example, a "Buy NOW!" button that links to your catalogue, service specials or contact page.) The problem with this lack is that having an attractive website with compelling content is only half the battle. You must make it as easy as possible for site visitors to take the next step; to buy a product, contract a service or contact a representative of the company.  Companies that utilize the Call to Action system can leap ahead of their competitors' websites, which are a button short of a top quality Home Page.
Over 80% of website-owning businesses do not have social media accounts. Their hope is, apparently, that if they set out a bare hook in the water, they might possibly catch a fish that accidently swims by. Social media, on the other hand, is not a passive marketing activity. Instead, using such platforms as Twitter, Google+, Facebook and the like, your marketing becomes pro-active in its approach. In other words, it is casting your hook directly where the fish like to hang out, rather than relying on the hope some misguided suckerfish will stumble onto your lure someday. 
Many companies with existing websites also ignore opportunities for increased sales caused by a lack of lead capture tools such as a Blog or Newsletter. These tools encourage engagement with your company from your clientele and lead to more long-term vendor/client relationships via email alerts and newsletters.  Only by having an effective lead capture system can you adhere to federal anti-spam legislation while increasing your recipient list for corporate/client communications.
We could quote facts and figures until the cows come home demonstrating the effectiveness of a web-based marketing strategy, especially if it is optimized for mobile access. Although data shows this form of advertising costs about half of old school marketing programs, it isn't free. There will have to be expenditures in either your time or your money to make a good social media campaign work for you.  This should come as no surprise to most business folks, however who know only too well nothing worthwhile comes free or easy.

If you think it's time for your company to make its mark with a modern online marketing strategy, or just need to make your current website mobile compatible, let the web professionals at Industrial NetMedia show you the way.