Calendar Design and Printing Projects
NOW is the best time to add wall calendars to your marketing repertoire. Hard copy calendars are still hugely popular and can get your brand permanently displayed on the walls of your customers, vendors and other associates. These gorgeous calendars are a subtle but constant reminder of your products and services. Companies usually start designing calendars in early November to ensure they are printed and shipped in time for the oncoming year. Don't wait until the last minute, as timing is crucial. A late calendar is as popular as yesterday's newspaper!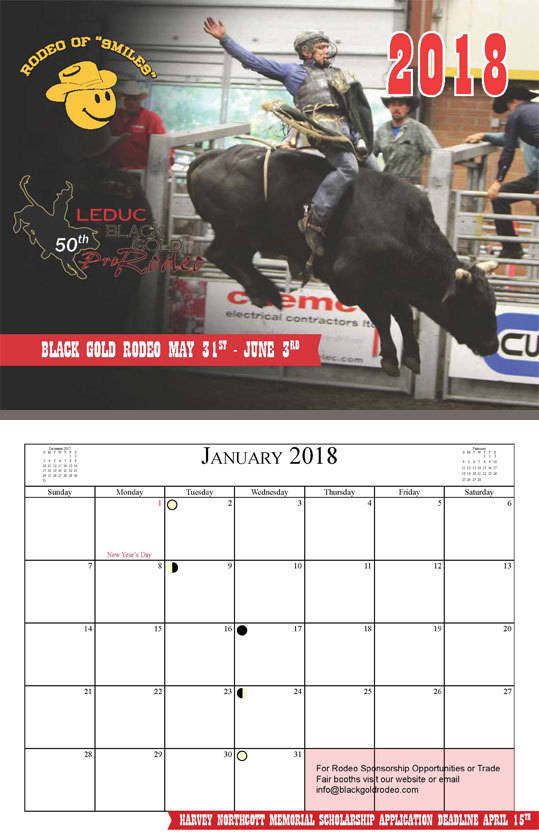 Hard Copy Calendars - An Amazing Marketing Tool
How wall calendars provide serious branding benefits for your company.
You may wonder how a basic, low-tech wall calendar can still work in a modern marketing campaign over flashier, trendier options. The fact is this time-testing brand awareness tool continues to be extremely popular. Here's why:
People remember dates and events better when they manually write them down, as opposed to typing on a computer or other device,
Calendars are useful for checking (and double-checking) information, scheduling appointments and meetings, and of course, enjoying artwork,
Businesses want attractive images to decorate their office and breakroom walls but usually have very little money in the art budget. A free calendar from your company is great for the recipient's business, which gets wall beautification at no cost, and is fantastic for your own company which gets a permanent, interactive advertisement displayed 24/7, which can be accessible to everyone in the organization... no password needed!
Ways to maximize your calendar marketing outreach
Include clippable coupons which promote monthly or other time-specific offers,
Utilize artwork which relates to the products and services your business offers, to reinforce your branding message. Additionally, be sure to use messaging which mirrors your other marketing materials for brand consistency,
Artwork can also be used to foreshadow prominent dates, holidays, and events unique to your business,
Most importantly, your wall calendar should be treated as a piece of marketing, beyond anything else. Your logo, website, and social media sites should all factor into your designs. Through even this small measure, you have the possibility of attracting new business.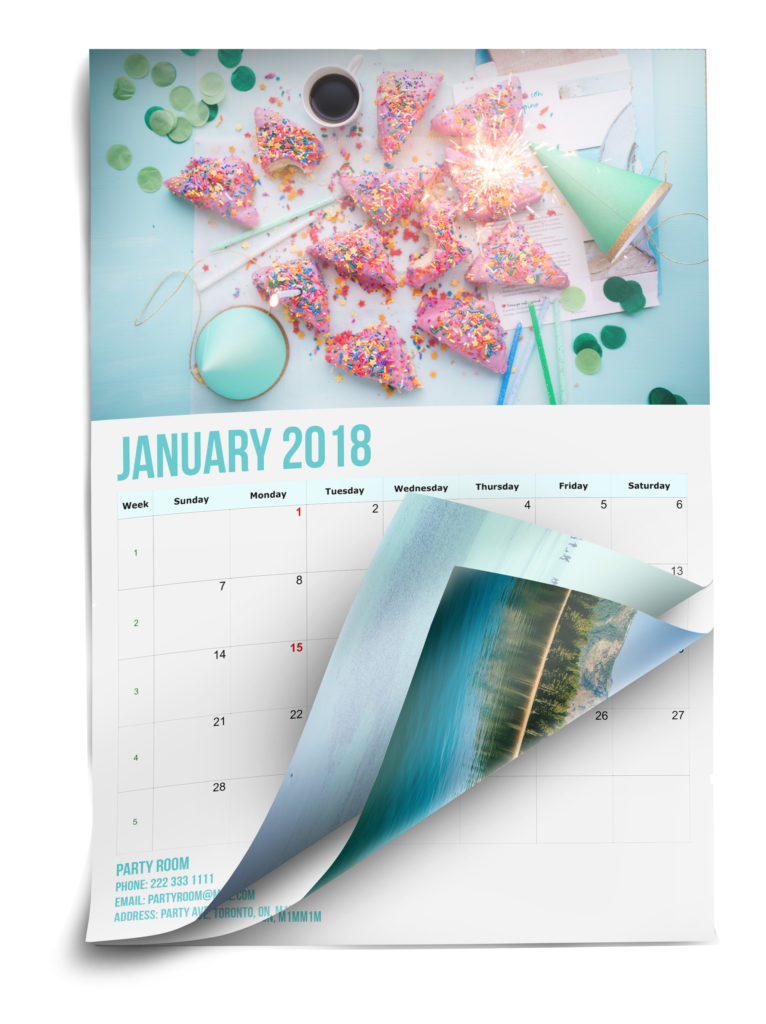 Hard Copy Calendars are Still as Relevant as Ever
Not the latest but still the greatest
Some might think wall calendars are an outdated item, given the range of digital methods to manage our time today. Though many of us do use smart devices daily for scheduling purposes, the wall calendar is still useful in the office and in our personal lives. Keeping track of team meetings and other company activities is where they come in most handy.
Design Inspiration
What does your business provide? This should be the main inspiration behind your calendar's theme. If you're unsure how to create a year's worth of imagery, make use of various social media and image-based websites to get ideas. Pick 12 photos that fit your business which would entice potential clients to think of what you offer. Remember; the point of your calendar is not to inundate potential clients with pointed ads, but to be a gentle, constant reminder of your business and its connection to the community. 
Design Tips for  Calendars
Use eye-catching photographic images and other interesting graphics which encourage users to think of your brand,
Listen to your clients' calendar feedback to inform the graphics team about future image selections and branding elements,
Since this is a yearly product, ongoing improvements should be actively pursued. It's unwise to issue calendars without changing up the images, coupons and other offers.
Calendars are practical items and with the right design, are attractive, relevant and amazingly efficient at maintaining brand awareness. When done well, your customers are not just likely to use and display them in their businesses but they may also find their way into your clients' homes for family use. Most family calendars in busy, kid-filled households are consulted on a daily basis, which is the Holy Grail of branding success.
Elements which make your calendar more effective
Calendars can even generate direct sales with strategically-placed coupons and coupon codes. Will you have coupons or special deals on your calendar for potential clients? If you feel that too many coupons or promotions might be hurtful, try these instead:
Offer a small incentive for new clients only, such as a discount on a product or order.
If your company is hosting an upcoming event, provide the opportunity to attend by including a free ticket.
Use the famous strategy of 'buy one item and receive another item at equal/lesser price for a discount'
Wall calendars make useful marketing tools and offer the opportunity to be creative. Don't let your customers' walls go bare when your branding could decorate it instead.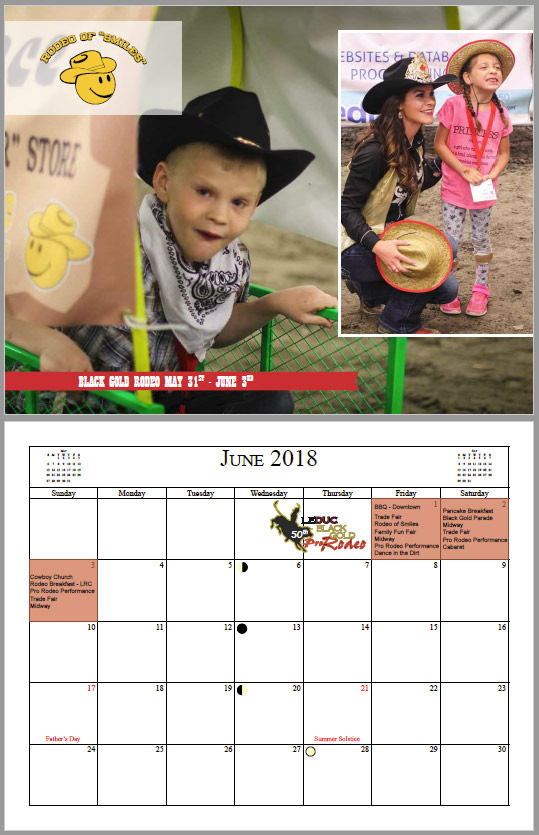 Check out the varieties of wall calendars Industrial NetMedia offers:
Our customized corporate calendars feature bright images while also providing a writable surface.
All calendars are custom designed to maximize your branding potential.
80lb Gloss Text
100lb Gloss Text
---
Industrial NetMedia's creative teams handle both design work and printing. Contact INM to get started today.
Contact INM with Your Postcard Needs
---
What Other Print Services Do You Need?
Still as relevant as ever. Professional printing services for Custom Business Cards  and other Personalized Cards.

     
Presentation folders work great to hold documents for conventions, trade shows  and school presentations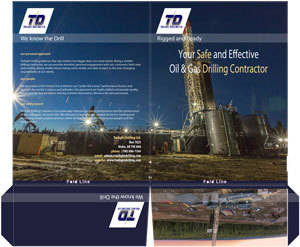 Greeting cards are most commonly used as a tool for expressing friendship or another sentiment.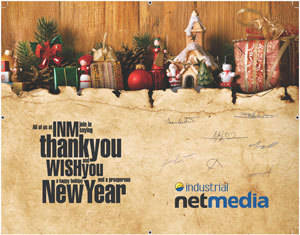 ---
Printed materials like these are great marketing tools to promote products, events and services with more text detail.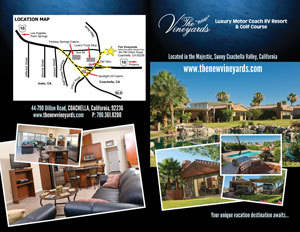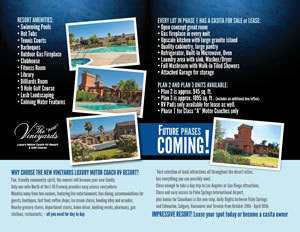 Wall calendars are a marketing tool that will keep your branding visible to clients all year long.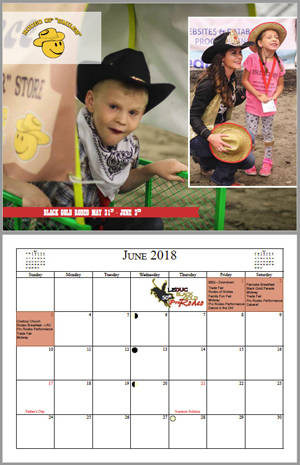 Postcards and Door Hangers provide powerful and cost-effective marketing, especially as a mailer.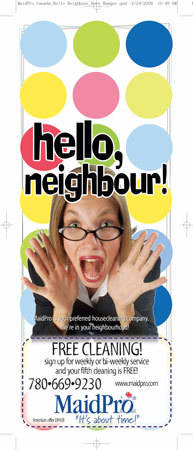 ---
Vinyl banners are a cost-effective, portable way of communicating your message in a big way.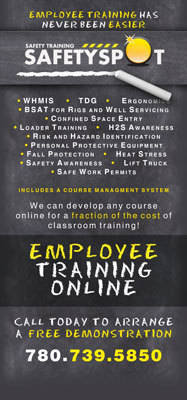 ---