Wilhauk Beef Jerky
When Trent Wilhauk approached Industrial NetMedia to develop a website for his company, Leduc Meat Packers, his goal was clear. He wanted to promote the fact his company produces the best-tasting beef jerky to be found on the planet. Although, like many meat packers, Trent's business sold various cuts of meat, ready-to-cook hamburger patties and a tantalizing array of pepperoni, their main claim to fame was the jerky that has achieved almost cult status in popularity.
With this mandate, Industrial NetMedia staff designed a splashy, vibrant Home Page that left no question as to what the company's most valuable product was. Additionally, they included a separate page discussing only the jerky so fans to find out more about the product they love so much.
Another page was added to showcase all the other well-loved items in the meat packer's inventory, including their delicately smoked and spiced garlic sausage, ham sausage, and smokies, as well as pork or beef breakfast sausages.
Given that Leduc Meat Packers has been an iconic feature of the Leduc business landscape for half a century, it was obvious a page outlining the company's rich history should also be developed.
The immense popularity of their jerky product made a testimonial page a must, as well. Along with the all-important contact page which includes business hours and ordering information, the site was designed and launched in 2012 and has been an integral part of Leduc Meat Packers marketing thrust ever since. Here are the unique marketing elements Industrial NetMedia developed for Wilhauk Beef Jerky:
Project Details:
Attractive, expressive logo
A page to promote Wilhauk's many other delicious product offerings
A page dedicated to a written record of Wilhauk's rich history
A testimonial page which includes a celebrity endorsement
A detail and data-heavy contact page including location information, hours of operation, and contact form for pro-active lead-capture capability.
INM's Sitebuilder Tools, Content Management System including one-on-one client training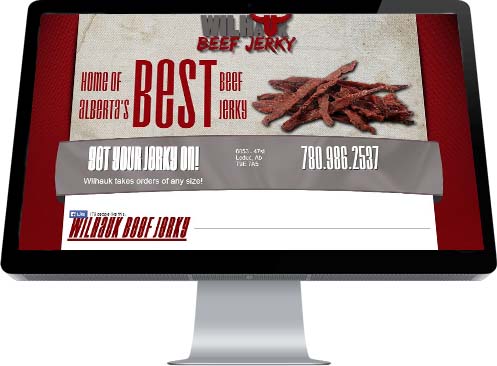 ---
---