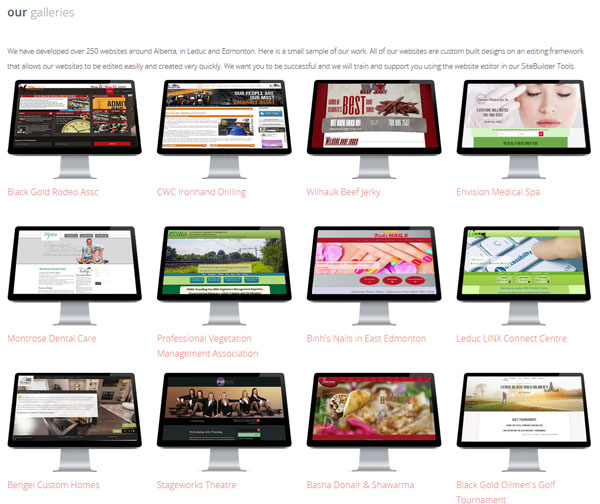 The Photo Gallery
Instant Engagement for Your Website
Thursday, May 19, 2016
(INM) For a lot of business people, having a website is sort of like having children; they must be a good idea because everyone else has them. Also like newbie parents, these business owners aren't sure how to maximize the potential of their creation. Luckily for those company leaders, Industrial NetMedia can show them how to can get the most out of a website with various "add-ons" that grab your site visitors by the eyes and keep those eyes on your pages longer. We, of course, do not recommend grabbing actual children by the eyes, however. There are many "add-ons" available, such as a blog, a newsletter, FAQ and Testimonial pages but for many websites, possibly the most effective engagement tool is a photo gallery.
Our Favourite Add-On; The Photo Gallery
Many of us know that photo galleries are a quick and easy method to update a website with fresh content. This keeps both Google-bots and humans alike, coming back to see what's new and has a significant impact on search rankings.  However, not everyone gets the fact that regularly swapping out or adding more photos is only scratching the surface of the potential power of a photo gallery.
Everyone With a Smartphone can be a Photographer
One way to push the customer engagement envelope with your gallery is to get your site visitors to contribute photos for you to share on it. There is no better advertising than "word of mouth" and you can bet people will be talking to their friends about their prized photo being featured in someone else's gallery. Consider having a photo contest tied to your products and services. Virtually everyone with a mobile device has the ability to take a picture and many fancy themselves as discerning photographers. Combine their weakness for selfies with a weakness for your products and your marketing thrust will have instant impact. The prizes needn't be costly as long as you make the successful entrants feel like real winners with social media shout outs and promotion of the winning pictures.
And speaking of social media
A photo gallery is also a huge asset to whoever is managing the social media activity in your company. For small business owners, that person is probably you. If this is the case, you know only too well that continually coming up with new text-based posts can be challenging to make interesting and original every time. Pictures, however, provide a magnet for "likes" and further "shares" since studies show social media posts that are accompanied by an attractive image enjoy a 53% higher engagement rate than those that have no photo. A photo gallery provides a ready supply of material to keep both website and social platforms dynamic. The organic growth in engagement brought about by your photo gallery may also lead you to the Holy Grail of site engagement; the viral post. Text-only posts, however, rarely go viral.
Picture Perfect
The final observation about the impact of a well-stocked photo gallery should not be underestimated. There is much truth to the quote regarding pictures being worth a thousand words. By telling the story of your company in photos rather than text, makes engagement with your company far easier for your potential clients. It seems few people nowadays wants to read a whole lot, especially in an online setting. Providing site visitors with your products' benefits in pictures is the perfect way to get your business story told; completely, yet succinctly.
Related Stories:
Social Media Marketing - Focus on Facebook
Social Media Marketing - Targeting Twitter
Social Media Marketing - A Look at LinkedIn