Ribetting business advice from Mark Twain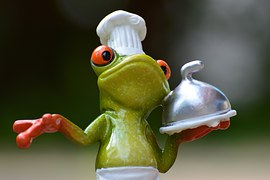 Tuesday, November 08, 2016
It may surprise you that iconic American wit, Mark Twain, had excellent business advice to offer. His insights fit new millennium business models as effectively as those back in the 1800's, when Twain was in his prime. Even more surprising is Twain's advice explored the correct method of eating frogs. We're talking buggy-eyed, sticky-tongued, hoppy-legged, fly-enthusiast frogs. Apparently, if you know how to eat one properly, you know how to deal with difficult business pressures, as well.
What Twain Said About Eating Frogs
"If it's your job to eat a frog, it's best to do it first thing in the morning. And if it's your job to eat two frogs, it's best to eat the biggest one first."
This is Business Advice?
What Mr. Twain meant by "frog eating" goes beyond scarfing down wiggly amphibians. What he was addressing was a simple life hack, namely; when you have a number of tasks to do, tackle the hardest, grossest, most unpleasant duty first. This is particularly important for small business operators who don't have a lot of staff to help eat the daily supply of frogs. Being everything from CEO to Chief Cook and Bottle Washer means every frog is yours and that it is imperative to triage your frogs to make sure you're eating the biggest one first every time.
You mean the jobs I always avoid?
There are actually four types of tasks in any business situation;
Jobs that enjoyable but not a priority. (Buying the staff a frog.)
Jobs that are enjoyable but are also a big priority. (Feeding the frog so it doesn't die and create a PR issue with frog lobbyists.)
Jobs that are not enjoyable but are not a priority. (Toilet training the frog.)
Jobs that are not enjoyable but must be done. (Yes, we're back to eating the frog.)
Why are we eating frogs again?
Twain's frog was a metaphor for your most hated task. It might be paying the bills, filing paperwork, or doing cold calls on prospective clients. Since we're all different, what your personal frog-eating task is will vary from others. There is no doubt, though, that in business, there are frogs just waiting to eaten. The important take-away is to eat the biggest, ugliest one first.
Does eating frogs early make them taste better?
Sadly, no. The frogs will still taste like lizard butt. Starting with the frog, however, allows you to bring the most energy, diligence and creativity to the project. Then, once the frog has hit your gullet, you are done with it for the rest of the day. Eating that repulsive reptile won't be in the back of your mind as you tackle other, more enjoyable projects with more positivity, attention and optimism.
Be careful! Eating frogs can be addictive!
Although few derive pleasure from eating a frog, humans do experience a rush of endorphins from our brains' "pleasure center" when we have completed an unpleasant or difficult chore. If we make a habit of starting our day by taking on the tough tasks and seeing them through, we can actually become addicted to the natural chemical rush from our ongoing achievements. Numerous well-known business people claim this type of addictive diligence can be the difference between your business being a success or a struggle.
Enjoy your frog!