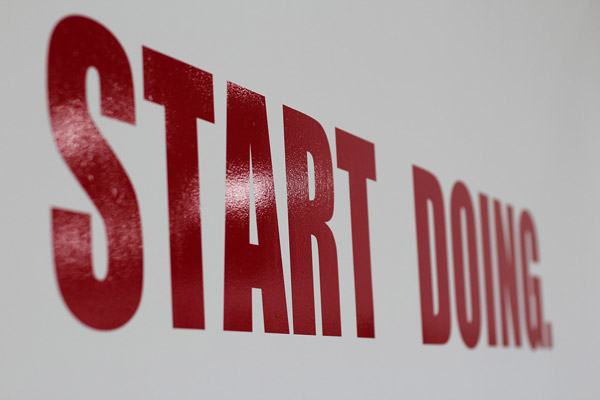 Thursday, February 09, 2017
It is now official. Good times will be returning to Alberta very shortly. The bust is dust and booming is looming. West Texas and Brent crude oil are currently stable; trading above the emotional benchmark of $50.00/barrel with upward pressure resulting in one year forecasts at or above $60.00. Reports are now surfacing of drilling companies gearing up for a big spring, with Precision Drilling in Calgary announcing they are immediately adding 1000 to their workforce. So the question remains, how will you take advantage of the opportunities which recovery in the energy industry means for your business?
Tip 1: Start DOING
"Time and tide wait for no man", said Geoffrey Chaucer, and the competitors in your chosen industry aren't waiting around, either. Getting a jump on ramping up operations means you get a larger, deeper pool of unemployed workers to choose from, better deals on goods and services before vendors realize the boom is back and a leg up on marketing efforts to reach your target, free from your rival's competing messages.
Tip 2: Start FRESH
If you feel your old marketing outreach efforts have not lived up to expectations, this is the time to hit the reset button and re-imagine your business' relationship with your target demographic. Examine all of your advertising materials from a cost/benefit perspective and focus your efforts on the avenues that have shown the most promise. Conduct a website review with your web developers and ensure every page has a purpose and that site visitors never have to wonder what the purpose is.
Tip 3: Start REVIEWING
Prior to pushing your company's "Full Steam Ahead" button, remember it is the perfect time to review all facets of your operations, including licensing, compliance certificates, budgeting processes and safety policies. Ensuring any new staff you bring on stream are properly trained with your company's unique safety protocols is an essential element of legal due diligence. This aspect of the review process can be undertaken more easily with customizeable safety software such as INM's exclusive SafetySpot product. (For more on the legal importance of safety training and due diligence, check out this informative blog from the SafetySpot website.)
Tip 4: Start HIRING
Diligent, industrious people are the lifeblood of most businesses and if you have been waiting for better days to fill positions, now is probably the time. A great first step would be to increase the efficiency of your HR staff by providing them with automated HR software to speed up on-boarding and other document-heavy operations. You might consider another INM product for this purpose; their exclusive HR Director software  is uniquely designed to make many HR processes much more efficient which means less time working with reports and more time working with actual humans. Revolutionary! (Here is more information on the importance of HR Director software for fast staff re-population.)
Tip 5: Start RECONNECTING
Staying afloat in stormy waters can be a full time job for business leaders but now is the time to back away from panic mode and begin to re-engage using social networking with fellow industry players. Make sure your personal and corporate industry association memberships are still current, and that you continue to be engaged with your region's economic development groups and chambers of commerce. The sooner life looks like how normal used to be, the more confident in the recovery Alberta industry will become. After a forced period of business hibernation, it's time to hit the ground running.
Tip 6: Start NOW
'Nuff said.