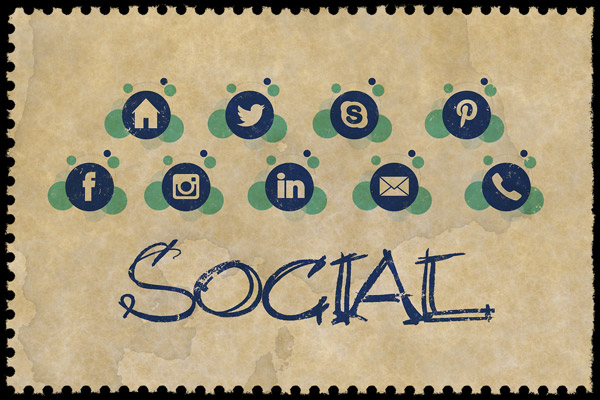 Top 20 Tips for Winning Social Media
Make social platforms work for you
Tuesday, March 14, 2017
Social Media Marketing can help your business connect with your customers.
Most business people know their products and processes inside and out but may be weak in other important areas. For example, social media wasn't even a thing until the last twenty years or so but is now an indispensable marketing channel for many companies. To help you get the most return on your social media time investment, Industrial NetMedia has curated some of the best advice from our own SM experts, as well as from some of the luminaries in this burgeoning industry. We hope it helps!
Being on every social platform is NOT the goal. Pick just one or two you know your target market frequents and stick with those ones. For more information on the big four, check each link above:
Never lose sight of what your brand stands for and why it is on social media. Don't break your brand's unique character. You ARE the brand, not an individual when you're posting on social media business brand pages.
DON'T JUST YELL SALES PITCHES AT PEOPLE! You have to embrace the fact social media is an informal chat. You can't simply holler slogans at followers all day. You have to add value to the conversation with information and insights which encourage client engagement with your business.
Do not try to be overly serious. People avoid "Debbie Downers" on social media.
Don't just ignore or delete negative posts. They present an opportunity to show your potential clients how good your customer service is when things go a little sideways. The fact is, every company screws up at times. It's what we do to rectify the situation for our customers which separates good companies from the sketchier ones.
Monitor your social media progress. Are you gaining followers? Are your blog pieces being read according to Stats Counter? More importantly, are sales improving over similar periods in previous years? If not, change may be needed.
Set goals but make them reasonable and measurable. Numbers of followers, shares, and likes are all important metrics to maintain to quantify your client engagement.
Be aware of what is trending as you move through the calendar, i.e. Father's Day, Easter, etc. Being timely means being read.
The Rule of Thirds; No one will pay attention to your messages if all you do is constantly promote your own product or business. Instead, try doing 1/3 self-promotion, 1/3 promotion of non-competing, complimentary businesses and 1/3 humor/human interest. This will keep your readers engaged and interested, not simply passing by your posts with their eyes glazed over.
Use pictures (or better yet, video) along with your text-based message every time, for every social media post. Posts with accompanying images has been proven to be many times greater than that of a text-only post. Video is even more eye-catching.
Make being your follower worthwhile with informative blogs on DIY options to save them money, or with fun photo contests involving your products or services with prizes of logo-bearing company swag. Whatever you do, make them glad they follow you.
Don't take social media tasks lightly. Social media is serious business. Effective posts can increase sales and customer engagement significantly but, if mis-handled, can alienate all of cyberspace if a poorly worded social post goes viral. Correct spelling is vital and the tone must stay positive and light-hearted.
Make sharing easy with obvious links which have been double-checked. Don't clutter up posts with too many #hashtags or @recipient names.
Become an authority in your field with industry information available on your site that is not sales -specific but speaks to the larger industry. You're not selling individual products at this point but your expertise. Once they start relying on your website for information and advice, they will eventually come for your products.
Regularly schedule time to attract new followers. There are many proven strategies for increasing your fan base but it mostly just takes commitment to the cause.
The tone of your media posts is vital. There has to be a sense there are humans behind the brand and you care about your customers as people, and not just as organic wallet support systems. Be folksy but professional.
A social media account does not take the place of a professionally-designed website. It is like fishing with a flashy lure on the end of your line but with no hook to actually catch the fish. Read more on this here.
Avoid politics. No matter which side you pick, you will anger those on the other side. Why reduce your market by a half when your position likely won't change anyone's political views anyway?
Avoid boring sameness. Avoid boring sameness. Avoid boring sameness. Also, Avoid boring sameness.
Understand that not just anyone can do social media. There is much more to it than what hanging out on your personal Facebook page reveals. Hire social media expertise if you do not have the necessary skills. You can learn more about the Dangers of DIY here.