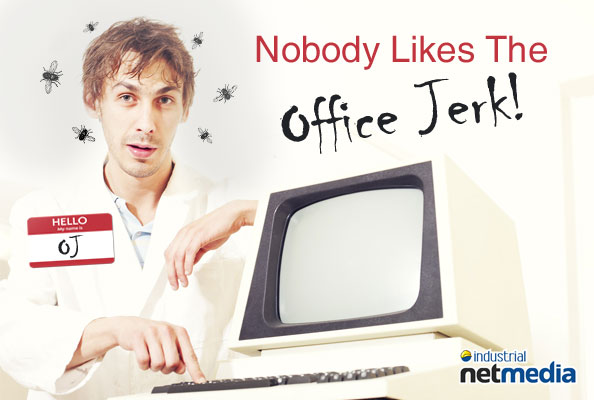 Hated at Work? Here's Why
Thursday, August 17, 2017
Nobody's Perfect
Every workplace has one; a staff member so hated, they have earned the title of "Office Jerk" or OJ for short. This person is so despised; co-workers celebrate their sick days with donuts. The designated OJ is an equal opportunity position, however, open to every gender, race, creed, hair colour, height and weight. (If you can't pick out who it is in your organization, we've got bad news... it's probably you.)
To Err is Human
Sure we're all flawed humans but there are some workplace behaviors so infuriating, they can get you immediately nominated for the OJ position. Bear in mind, however, there are so many of these annoying behaviors, we've probably all been guilty of one or two in our careers, so understanding and compassion toward the OJ may be in order.
Here's our list of "DOs and DON'Ts" to avoid becoming the OJ.

1. DON'T be a screw up.
If you make a multitude of mistakes which creates extra work for your co-workers, we can guarantee your peers are thinking nasty thoughts of you THIS VERY SECOND! Fellow employees do not respect incompetence, whether the boss notices your hopeless ineptitude or not.  DO try to be diligent but NEVER blame someone else for your own mistakes.
2. DO finish your work on time.
Waiting for someone to complete a task before you can proceed can be very frustrating, especially if the "slow poke" appears to be wasting time on Pokemon Go instead of working.
3. DON'T take credit for the achievements of others.
Few other OJ behaviors produce as much hatred as this one, (other than infiltrating the coffee room and rifling through lunches). Generally speaking, working in any group setting is a team sport and group results are what is celebrated, not individual achievements.
DO take responsibility for mistakes and share credit for successes.
4. DON'T be lazy.
If you take the last bit of coffee from the urn, make a new pot. Don't be afraid to volunteer to help lift heavy paper boxes, water cooler bottles etc. Taking your own trash out? Offer to take someone else's trash bag while you're at it. If you think you're much too important for such menial tasks, however, don't worry. You're probably already the company OJ.
5. DO listen to leadership directions carefully.
If you were busy feverishly swiping your device looking for Mrs. Right on Tinder (though not Mrs. Always Right) while the boss was setting out goals, your workmates won't be very impressed. Don't waste your co-workers time making them repeat what you should have listened to in the first place.
6. DON'T be bossy.
No one appreciates a control freak and if you start telling others how to do their job, you can expect a picture of your face to be pinned to their mental dart board. And even if you're the boss there's still room for "please and thank you"
7. DON'T be a braggart. 
No one cares about your embellished personal exploits with lengthy details of your wonderfulness.. Open your mind to the telepathic messages from your co-workers telling you to "shut up and go back to work".
8. DON'T talk and/or dress inappropriately for work.
If you discuss topics and wear clothing which are NSFW (Internet-speak for "not suitable for work") people will resent you and the title of OJ will be yours. Few folks respect others who can't follow simple rules.
9. DON'T cook smelly food in the office.
Sure, sardines on toast is the perfect snack to get your brain cells firing on all cylinders but their rank aroma will make you as popular with your workmates as infectious pustules. If your favourite foods have a pungent aroma, do your workmates and society as a whole a hugea favour and eat them at home.
10. DON'T stink. Seriously.
Nothing will get you nominated for OJ faster than smelling like a hobo. Cleanliness is a must when sharing an office with other people who have nostrils. Watch your breath, too.  If your directed exhalations can kill flying insects, perhaps consider better dental hygiene or at least a breath mint.
There you have it. If you're doing any of these things on a regular basis, you can bet your coworkers have pitched in on a Voodoo doll of you, complete with extra large pins. They may be able to hide their hatred but you can be certain the title of OJ is yours.