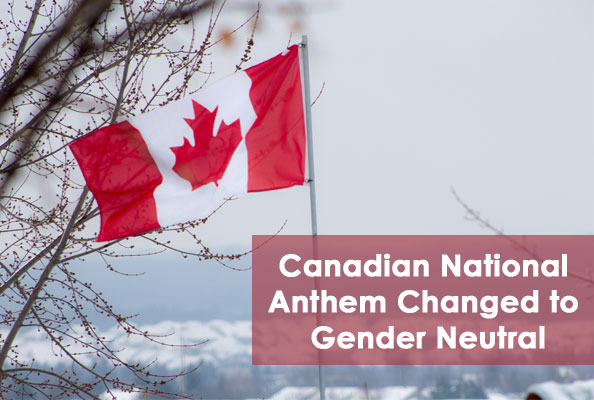 Wednesday, February 14, 2018
Gender-Free Anthem Bill Passes Canadian Senate 
Members of the Red Chamber have passed a bill which makes O Canada gender-neutral.  The vote was not unanimous as some Conservative senators made a stand against the change.
The bill had come before the Senate following its introduction to parliament by late Liberal MP Mauril Belanger in 2016. The bill changes the lyric, "in all thy sons command" to the gender-free "in all of us command".  It is the twelfth attempt to eliminate any gender references in the anthem since 1980.
O Canada was originally written by Robert Stanley Weir in 1908 and has been changed many times with the first edit coming in 1913. The bill for this most recent change was sponsored by Senator Francis Larken who reacted favourably following the vote.
"I'm very, very happy. There's been 30 years plus of activity trying to make our national anthem, this important thing about our country, inclusive of all of us," she said. "This may be small, it's about two words, but it's huge ... we can now sing it with pride knowing the law will support us in terms of the language. I'm proud to be part of the group that made this happen."
Not all senators were in favour of the change and boycotted the final vote.  Longtime foe of attempts to change the anthem, Manitoba Senator Don Plett claims he was prevented from speaking in opposition to bill thanks to time-limiting motions which he viewed as an insult to democratic principles.
"When a majority of individuals decide to shut down discourse in this place, democracy dies. We need to be very wary of tools that muzzle debate ... that is the fundamental right you have, to get up and speak on any piece of legislation, none of us have the right to take that away," said Plett.
To see how much Canada's anthem has been altered over the years, it's interesting to review the original, 1908 lyrics below.
O Canada! Our home and native land!
True patriot love thou dost in us command.
We see thee rising fair, dear land,
The True North, strong and free;
And stand on guard, O Canada,
We stand on guard for thee.
Refrain
O Canada! O Canada!
O Canada! We stand on guard for thee.
O Canada! We stand on guard for thee.
O Canada! Where pines and maples grow,
Great prairies spread and lordly rivers flow,
How dear to us thy broad domain,
From East to Western Sea;
Thou land of hope for all who toil!
Thou True North, strong and free!
(Refrain)
O Canada! Beneath thy shining skies
May stalwart sons and gentle maidens rise,
To keep thee steadfast through the years,
From East to Western Sea.
Our own beloved native land,
Our True North, strong and free!
(Refrain)
Ruler Supreme, Who hearest humble prayer,
Hold our dominion within Thy loving care.
Help us to find, O God, in Thee,
A lasting, rich reward,
As waiting for the Better Day
We ever stand on guard.
(Refrain)