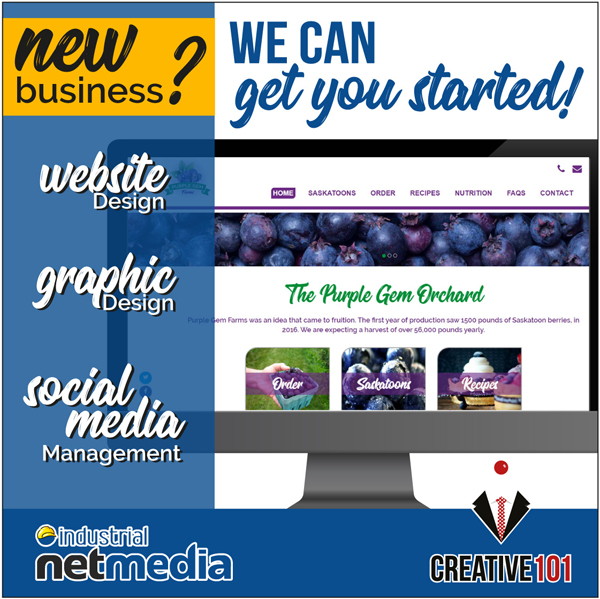 INM & Creative101 is here for your new business!
Let us help you look great!
Thursday, November 12, 2020
Starting a new business? Creative101 can give you a great look!
Logo design, branding, business cards, website, social media, etc... all the things you'll need to get going. Industrial NetMedia/Creative101 can help you put all the pieces together!
One of the most important things to get a new business (or an existing one) off the ground is a strong online presence. You might want an online store or simply, a website that will give your customers all the info they need, to make your business their next stop.
Maybe, during this pandemic, you are finding a new way to market your products or services? Or, decided to start your own business and work for yourself? We can ensure your best chance of being found online with the use of our SEO practices and strong brand awareness skills. Your 'brand' should stand out from your competition and we can make sure that you'll be able to look professional, as well as unique.
branding
Your brand identity (a.k.a. your logo) is the first thing you need to promote your business. We will design a professional logo that is uniquely your own... no cookie cutter designs here! Your logo will determine your branding elements and the look you want to present to your customers. First impressions can mean everything when you're starting your new business.
website design
You'll need a professional and well designed website for your new business! A great combination of branding elements, high resolution images, organized navigation and interesting, appropriate content, will get your readers attention. If you don't have these things, you may not hold the interest of someone who lands on your website. We can even utilize video to make your page something extra special. Use your website to make a great first contact and turn those viewers into customers!
Sell Products Online
Everyone is shopping online this year. Will e-commerce work for your business? We can provide, setup and help you manage your online store. Whether you have good technical knowledge and can do it yourself or you just want the store to take care of itself, we have a plan for you. We can build an e-commerce store right into your website. Don't send your customers to Amazon or Shopify! Keep them on your website. You can take payment immediately or have the order submitted for quote. Our stores have the capability to let your customers choose their products and ask for a quote. You don't need to list your prices. This is great for special services for difficult to price products.
Social media marketing
Establish a professional identity on the best social media platform for your target market. We can manage it for you or you can do it yourself. Either way, we can give you the tools to turn a reader into a potential customer. Making your products or services well known can be tricky. Having a consistent and branded plan for your digital marketing, can be the key to getting those customers to take notice. We can also make use of Facebook ads to expand your followers by targeting possible buyers.
Talk to us today! We will show you the best side of your business and get you online!