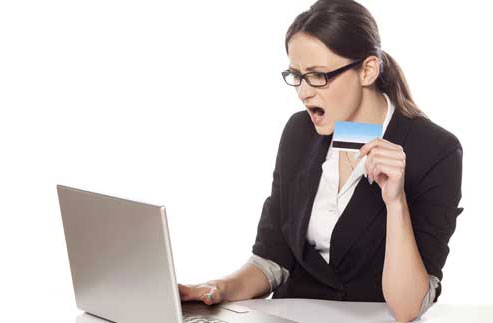 Website Tales: My First Online Purchase
Note to Online Vendors... Keep it Simple, Stupid!
Wednesday, January 07, 2015
Following a lifetime of a lack of trust concerning online shopping, last week I decided to violate my inviolate personal commandment against the practice. (I find life easier when commandments are viewed more as guidelines).
I must tell you I'm no "Netscape Newbie". I know stuff. I've learned, for example, that Netscape is the number one browser choice for finding a better browser. I have even deduced how to use iTunes; that omnipresent yoke of Apple despotism so well known to every iProduct user, though, admittedly, it required almost a year of my wretched life to accomplish. I can usually stumble my way around most websites, an essential ability in the new millennium that is almost as important as knowing your way around a debit machine.
Still, I'd avoided such sites as Amazon, Kjiji, eBay and all the other craigslists of websites where they try and sell you stuff, but I really had my heart set on having an eBook experience on my ten kilo, coal-fired iPad 1.0. This required me to break my vow of Internet "sell-abacy".
I located the site, and the book I desired, quickly enough. Mayan Calendar Girls does stand out, one must admit, and I gleefully placed the electronic tome carefully in my online "cart". Thanks to my lifelong lack of luck, I ended up with the cart that had a wobbly online wheel.
"How will you be paying?" the prying site demanded to know.
After much consideration, I chose the "Paypal" tab. I'd created an account the month previous but then had chickened out before completing the transaction I'd set it up for. I'd reasoned that it was better to confide in just one company's hard drive with my Visa info rather than two. Upon reflection, this might have been where I went wro... wr... may have slightly erred.
I clicked the "Paypal" option, and instantly it was pop quiz time, or rather, popup quiz time. The window displayed on my monitor insisted that I recall the password I'd invented made up all those weeks ago but never used. I cycled through a list of various old favourites without any appreciable effect. Finally, in frustration and defeat, I clicked the "If you're a dolt who forgot your password, click here" button.
Another pop-up advised further instructions had been sent to my email inbox. Accessing my Hotmail account (hard to believe it was THE email service back in the day) the next step on the treasure hunt was revealed just like the pop-up promised. This surprised me as pop-up windows, I've found make car-curbers appear honest and forthright.
I clicked and was immediately whisked to a "forgetful dummies go here" window which allows one to alter their password. After dozens of passwords had been rejected for being too long, too short or not pleasing enough to The Deity in Charge of Online Security, I eventually hit upon a password that satisfied the Paypal machinery.
I then returned to the site to purchase the book, although my enthusiasm for downloading reading material was significantly reduced. I was consoled somewhat by telling myself I was just on a challenging learning curve that would ultimately become second nature to me, like driving or understanding my wife's jokes.
With my shiny new password, I again located the book and once more moseyed to the e-cashier (using the wobbly-wheeled cart I'd suffered through previously, apparently) and clicked the "Paypal" button. Typing in the new password, I was disheartened by the website's distinct lack of trust in me.
"We could not confirm you are the account holder," scoffed the pop-up message that had appeared.
"The link provided has now expired," chortled another. It provided a couple of options. I could either make another attempt using the same information or try to reset my password yet again.
I chose the latter option and returned to the laborious purchasing process to try my luck. Once more I was callously denied.
"Please ensure you have entered your password and email address correctly. If unable to log in still, please read the Troubleshooting Guide below," said the smarmy window. "Make sure you've spelled your email address correctly, (I had) and that the password and email address match exactly. (It did.) If you experience any problems, click HERE."
I clicked HERE.
"The link that was sent to you has expired," explained another pop-up. "I'm sure I told you this the last time you attempted this operation."
Okay, so maybe it didn't quite use those exact words, but that's how they sounded in my head.
According to Einstein, doing the same thing over and over with the expectation of a different result is a sure sign of insanity, still I persevered. Einstein's observation is clearly not applicable to computers where doing the same thing often results in wildly varying outcomes. It's sort of similar to those USB cords. The small squarish metal tab won't go in the hole so you turn it over, but it still won't slide in so you flip it again whereupon it immediately goes in the hole.
Suddenly, my spirit soared heart with joy and hope, not being connected to my brain and all. I was now eyeing a new window! Not that this one was much more help than its legion of disappointing predecessors, but it was a window I hadn't seen yet at least. Even in my momentary joy, I noticed the tone of the message was decidedly frosty.
"We emailed it to you again," it read curtly. It had the voice of a testy spouse. "We sent another email to your inbox. Click the link contained in the email to enter a new password."
"But we've been over this again and again!" I snarled at the monitor with predictable results; namely, sweet tweet.
That's when I noticed beneath the smarmy pop-up was another, slightly more conciliatory message.
"You still didn't receive our email?" it wondered. "We can verify your account details by telephone. For the contact number click HERE.
I was mad. I did not wish to click HERE, or HERE or even THERE. By this time, I decided was not going to click any place Paypal said I should click. Paypal, I'd concluded, was no pal of mine.
Once again I began jumping through the book-buying hoops. I vowed not to be vanquished by this new nemesis. This time, I ignored Paypal's tantalizing tab and clicked the "credit card purchase", button instead. I was compromising my long-held resolve but I didn't care. I wanted to send a message to the head of Paypal. ("PP Head", I called him in my imaginary conversation).
The Visa transaction proceeded mostly painlessly from there and soon, I was fingering through my latest acquisition.
I've decided not to let my frustration with buying the "eBook" influence whether I prefer tablet text to reading hardcopy books. The fact the book's cover picture features a rather well-endowed Mayan lovely makes me think it may have possibilities after all.
Related Content You Don't Want to Miss
How BAM Biz Can Profit From an E-Store Presence
6 Popular Website Features; How they Help, How They Hurt