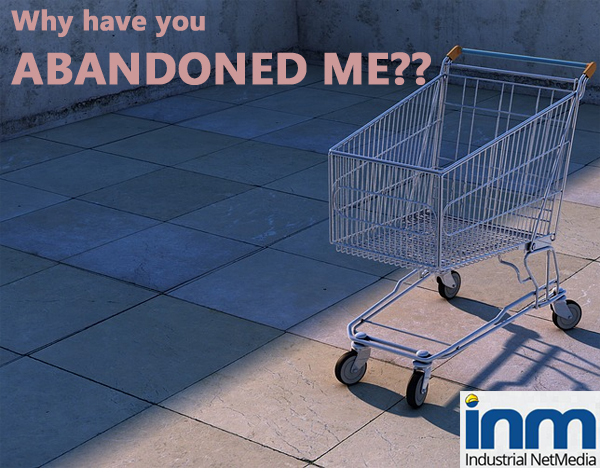 Tuesday, November 07, 2017
Imagine you're a fly on the wall, watching a visitor to your company website. You were wise to have a properly optimized website to ensure high placement in Search Engine Response Pages (SERPs). Your consistent search engine optimization practices (SEO) allow potential new customers to find you among the millions of other websites. As you watch with your compound eyes (you're a still that fly on the wall, remember?) you're overjoyed the visitor is reading lots of your content and is now on your checkout page with a "shopping cart" brimming with product.
The plot thickens
Suddenly, excitement turns to alarm as your visitor closes the window before completing the transaction. "What happened?" you wonder.  The reality is a full two-thirds of online checkout transactions are never completed. Chances are, the abandonment was due to at least one of a list of causes revealed in a 2016 US study which involved over 1000 respondents. Understanding why the test subjects abandoned their carts will allow you to tweak your system to avoid these all too prevalent eStore errors.
Surprise! Unexpected charges scare people away.
According to the study, 61% of abandoned purchases were because the online shopper encountered too many unexpected charges, like handling fees, shipping costs and taxes. What looked like a great deal at first was now more than they were willing to pay.
What to do!? What to do!?
If site visitors are advised upfront about shipping costs, tax rates and other incidental fees, they are less likely to feel instant sticker shock at the checkout. If you have a dollar amount after which shipping is free, ensure that information is prominent on the landing page. It may even encourage upselling to achieve the amount. Don't make it too high or site guests won't even try to top up their cart to save freight.
Get Professional Help
Of the folks who flee checkouts, about 40% did so because the site would "freeze up" or "crash" or had enough spelling errors and other mistakes, the visitor did not trust the site with their credit card information.
What to do!? What to do!?
There is no replacement for having professionals design your website if you want it to look and operate professionally. It's that simple. Here's our exclusive blog with more details on this important point, How Amateur Web Design Hurts Your Brand.
Back off!
35% of individuals surveyed indicated if an eStore requires a membership just to poke around, they will become cart quitters. Many people have privacy concerns while online (gee, we wonder why) and if you try to force a relationship before they're ready to commit, you will lose them.
What to do!? What to do!?
Start each relationship with as little commitment as possible. Allow for a "Guest" membership to allow eStore browsing without needing a full-fledged member profile. Once they spot what they came looking for is the time to take your relationship to the next level.
What the Heck???
Do you have a confusing cart process? A full 27% of eStore visitors who have abandoned their carts claim it was because the checkout procedures were way too long or just too confusing.
What to do!? What to do!?
Before putting your site live with your eStore at the ready, make a few practice purchases to see for yourself how user-friendly the checkout system is. Ask people who don't shop online very often to try the process. Newbies are your best bet for catching complications which experienced eStore users might not notice.
Your eStore policies suck are too rigid.
Just over 18% of prematurely ended checkouts were the result of a perception the eStore had poor shopping rules such as an unacceptable returns policies or inadequate payment methods.
What to do!? What to do!?
Before establishing your eStore's rules of engagement, be aware many of your competitors do not have policies like demanding restocking charges on returned goods.  Online shoppers expect, not only free shipping, but free returns, as well. They also want to pay with forms of currency they already have such as credit card or PayPal.
Time is of the Essence
Cart quitters cite slow delivery times as their abandonment reason about 16% of the time. No matter how long folks take to decide what they want, once they've made up their mind, they want it yesterday. The longer it takes than "yesterday", the less likely the transaction will be completed.
What to do!? What to do!?
Provide a range of delivery options which spans folks who don't mind paying for super-fast expedited service, all the way to those who are happy to save money by ordering ahead of time and patiently waiting for "snail mail" delivery.
Tapped out
5% of cases of "checkout interruptus" occur because the credit card was declined.
What to do!? What to do!?
This one is tough to solve. Just be sure if you accept cheques as payment, you only ship goods after they have cleared the bank.
At the end of the day
There will always be those who, for one reason or another, will abandon their shopping cart before completing the transaction. By following some of these suggestions, you may reduce the number of abandoned carts significantly but you will never eradicate them all together. It's just part of the new normal in the Age of eStores.