Desk Jockeys Must Stand Up For Themselves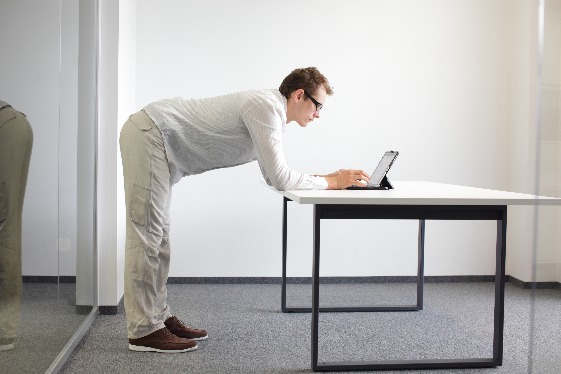 Wednesday, March 18, 2015
You're getting nervous. You just found out sitting all day at a desk will kill you prematurely. . Some experts claim sitting is more dangerous than dating mobsters' wives or smoking cigarettes. Thanks heavens no one smokes at their desks anymore, but many of us still risk life and limb by sitting at it.
I Don't Want to Die!

Few people seek to shorten their lives on purpose. We all know for optimum health, we should interrupt our work every half an hour for a quick power stretch and perhaps a walkabout. (See Wally of Dilbert fame for walkabout pointers.) Yes, we realize that regular exercise breaks are imperative for good health... except for our boss and co-workers, of course. To them, when we leap up to do some quick jumping jacks, we likely appear weird and unengaged, with short attention spans. They don't understand we're trying to add ten more years of our lives for the greater glory of our employer. Certainly there are some large companies that provide an exercise room for their employees. Some even have nap rooms, too, but most grunt-level staff members don't foresee anything like that being built where they work. Most Canadians are employed by small business, so exercise equipment will not likely be in the budget any time soon. Not even a shared Thighmaster.
Don't Just Sit There, Do Something!
So now you know that unless you regularly do some kind of physical activity many times throughout your workday, you may be hastening your death certificate. However, if you do interrupt your productivity for a minute or two of trying not to die young, you may be hastening your separation certificate. The answer is to workout at your desk on the sly; a strategy known as Stealthercise.
Exercise Stealthily to Live Better Healthily
Since bounding out of our ever-more-burdened office chairs to do a few squats is almost as distracting to others in the office as whistling show tunes or projectile sharting, a more subtle approach is called for. Here are some reps you can do while still staying, not only at your desk, but also under the radar:
Butt crunches: This exercise involves squeezing your buttocks (important: only squeeze your own buttocks) and holding the clench for ten seconds before relaxing your glutes. ('Glutes'is a snobby way of saying 'bum muscles') Glute relaxing is not recommended if you have had to take Imodium for any reason over the last 24 hours. Repeat the process until you are too tired to do any more butt-crunches; a condition also known as being 'bummed out'.

Tummy crunches: While seated with your back straight and your feet flat on the floor, tighten your abdominal muscles, hold for ten seconds, then release. Do this until you have a stomach ache or your co-workers start to noticing your groans and want to call an ambulance. If unsure how to tighten your 'abs', imagine the muscles you would contract if someone was about to slug you in the gut or go over your performance appraisal.

Seated leg raises: This exercise requires the participant to be seated while they straighten their legs and, you guessed it, raise them. This can be done individually or with both legs together. To increase the effectiveness, you can weigh down your legs with a purse, book bag or some of your more sedentary co-workers.
Toe-Tapping: Any motion, even fidgeting , that works muscles can burn calories. Even small movements like tapping your feet, can have a surprisingly positive effect on your overall health. Training your tootsies to exercise while you concentrate on your duties is the goal, but make sure you're on carpeting or your foot fitness offensive will annoy the heck out of your office-mates. (Important: Do NOT engage in foot-tapping reps when waiting for your boss to answer a question.)
Beyond the Desk: Are You Up For It?
The Stealth Squat: If you are required to stand around for any length of time; say, waiting for the fax machine to puke out your paperwork, use that opportunity to do some squats.  Maintain secrecy by saying things like, 'Gee, I better have a closer look at this,' while looking down intently as you bend your knees so as not to arouse suspicion in your fellow employees.
Standing Rules For Meetings: Since standing is a far healthier option than sitting all day, consider having meetings where everyone stands instead of using the boardroom chairs. Not only will everyone think sharper and feel better, you can be sure the meeting will take far less time.
Your Choice: Stairway to Heaven or Elevator to Health Problems
If you work in a high-rise office tower, you know that elevators are not only quick and convenient, they are also a great place to monitor who uses deordorant in your building. Despite these obvious advantages, consider using the stairs instead, at least half the time. Not only will you get a great little cardio workout, you won't be jammed into a tiny compartment with a bunch of overweight people who will expire before their due date.
Don't Take This Issue Sitting Down!
Although these solutions may make you feel silly at first, the problem is very serious. Sitting uninterrupted all day will shorten your life. This reality does not change, sadly, even if you go to the gym after work every single day. We were never designed to sit for long stretches at a time, apparently, so unless you change your chair dependency, you can expect a health effect. It's time to stand up for your health.

Related Content You Don't Want to Miss
Negating the Health Effects of Shift Work
Human Resources Management - Employee Fitness