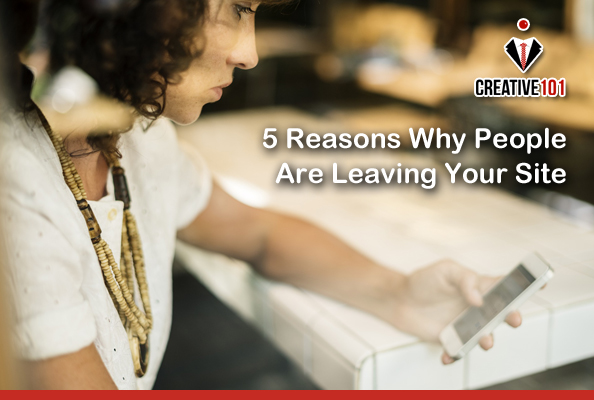 5 Reasons Why People Are Leaving Your Website
Tips to keep people on your website
Tuesday, August 20, 2019
Wondering why your site isn't gaining traction?
Here are five reasons why your site may need an upgrade.
1. Not Mobile Friendly 
We live in the world of smart phones - your website needs to be mobile friendly. Is your website usable on today's smart phones? Are images the right size? Is text readable? Are links not too close together? Fix these issues to optimize your website on people's devices.
 
2. Trust 
When a visitor gets to your home page they need to know what you do, how to get it, figure out what you sell, how to get it and form an opinion of whether they trust you or not. All within about three seconds. If your website isn't clear and easy to use as soon as the user clicks on your site they will most likely click the back button and continue you on to your competitor's site. 
 
3. Loading slowly
This may be the number one reason why a user will leave your website with a strong chance of never coming back. You have about three seconds for your page to load before the user loses interest - that's not a lot of time. Make sure all the images on your page are the correct size and remove any unneeded videos; this will help your page speeds. 
4. Where's the contact information?
Your potential customers can't contact you if you don't give them the info to do so! Add your contact information to multiple spots throughout your site so users have easy to access to it.
5. Overall Design
Does your site look outdated? Would you trust a website that looks like it was designed in a different decade? If your website looks fresh and modern, your visitors will have more trust in your business. 
We are here to help - call 780-739-5850 today!