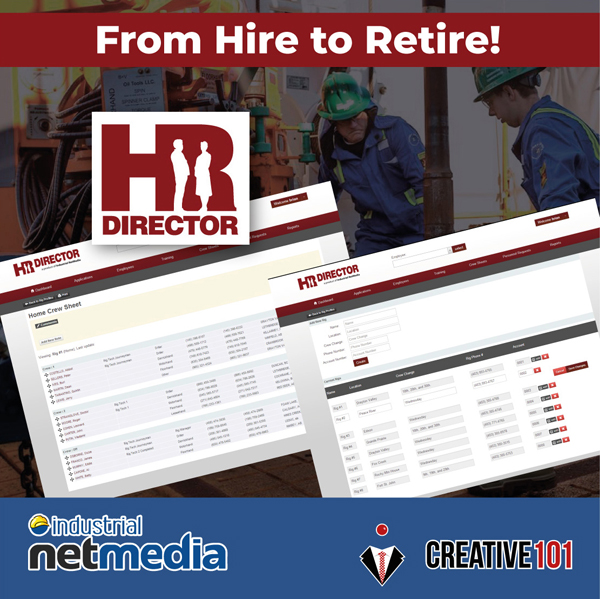 Crew Management Software
HR Director: The right solution for the oilfield industry.
Friday, October 02, 2020
Online
Human Resources

Software for Crew Management.

Get ready to be excited once again about what Human Resources software can do for you. HR Director is an affordable, easy-to-learn suite of applications created on the principle of simplicity. You will love HR Director's features; job postings, application status, hiring, asset tracking, crew control, certification tracking, training and the list goes on! Everything you'll need to keep track of your crews and manage what they are doing.
The software is here to make your life easier and streamline employee administration from hire to retire.
Effective HR Tools!
Created for today's busy manager: Internal personnel transfers, promotions, vacations, safety days, training, certifications and equipment needs are all accounted for within the system. Many employees will either take short cuts or not use a system at all. HR Director brings all of your employee management documents and systems together in one place, easily accessible from any computer. Reduce loss, eliminate errors and lower stress levels with HR Director.
Key Features
Online Recruitment - With a powerful applicant tracking system your prospects may apply through an integrated online application form for landing new hires.

Hiring - Easy candidate processing with one-click status updates.

Employee Data Tracking - Your employee database tracks everything including incident notes, clothing issuance, qualifications, positions, work locations, relevant experience, and contacts.

Training Management - Includes manageable tables for certificates, courses and email notifications to department heads. Book training, tracking course history, certificate expirations.

Employee Continuity - Tracks, incidents, promotions, safety days, call logs, days worked and employee change and warning notices. Manage work crews, track resource locations through assignment, personnel requests, work location profiles.

Powerful Timesheet - Track crews time, allows for regional filtering, GL Codes, and Job Codes. Two week view, at a glance. Includes a Manual worksheet.

Sage 50 Integration - Export Timesheet to Sage 50 for fast payroll processing.

Flexible Reporting - TRIF, Warning Changes, Tickets, Turnover, Call Logs, Clothing Issuance, Drivers Abstract, Crew and Timesheets reports all available with flexible filtering for more details.
HR Director is an annual subscription format, that you can cancel anytime. It becomes a key element of your operation by helping you manage tasks, day in and day out. This software is accessible within your office and from any of your regional locations. Pricing is based on active employee counts and we do not impose a user access fee, only a moderate one-time set-up charge.
Book a demonstration today!