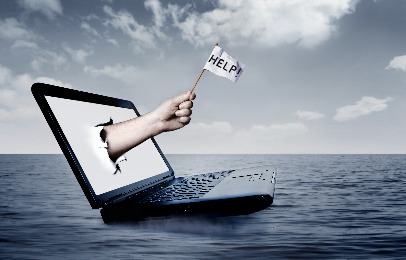 Website Mobile Responsiveness is the New Millennium 'Gotta Have'
What to do when half the world can't read your website
Thursday, November 05, 2015
Your website NEEDS to be mobile responsive!
You need to be aware there is a sea-change occurring in how your target demographic views that website you value so highly.  Long gone are the days when the majority of cyber-surfers and online shopping enthusiasts would lash themselves to a CPU sitting on a desktop to go web 'tubing'. Mobile devices, such as smart-phones, tablets and other portable technology products now account for between 50 and 60% of all Internet searches and those figures are rising exponentially as each year passes.
Who knew?
Indeed, Google is so acutely aware of this change in how people access the Internet they altered their algorithms in April of 2015 to punish websites that were not mobile-friendly.
Here's how Moz-based web guru, Dr. Peter J. Meyers, who  makes his living trying to understand how Google works, put it, "Google's push toward mobile-first design and their clear public stance on this issue strongly signal that mobile-friendly sites are going to have an advantage over time."
On the plus side, however,. Dr. Meyers notes, "If you're worried that you may be too late to the mobile game, it appears there is some good news. Google will most likely reprocess new mobile-friendly pages quickly."
What does it all mean?
This means that old school websites that were designed for desktop viewing are often at a disadvantage to those that have been especially laid out to reflect the new mobile reality. A website full of large chunks of text, minutely detailed graphics and busy as a big city street does not have the same impact when seen on a screen that is just 5.5 inches by 2.5 like the new iPhone 6 is sporting. That screen size is only a small fraction of the viewing surface boasted by a 17" desktop monitor.
What to do? What to do?
Some companies solved this problem by creating sister sites; stripped down versions of their main site, for mobile visitors to be funneled towards. This solved some problems but created others. For example, having two sites with the same information and messaging can hurt search ranking. This is due to the presence of duplicate content which Google tends to frown upon and punish for, via reduced rankings. As well, dividing your visitors between two different IP addresses reduces each site's popularity by half which also affects your search optimization efforts. There is also the obvious issue of having to pay for two or more websites when you really only need one which has been redesigned to be mobile responsive.
So what exactly is mobile responsiveness?
Place your cursor on the minimize/maximize button at the top right of your browser display. This allows you to shrink the viewing field of the window you are accessing. By pulling the edge across your screen you can get an idea of what the window would look like on a small display. If the text overlaps other text or the text is leaking all over your graphic features, your site is not mobile responsive. A device-friendly site is engineered in the "backend" to move each element of a website into a tidy column. Visitors won't see the whole site all at once, like desktop visitors can, but instead are able to view each site element separately simply by scrolling up and down on the touch screen.
Elementary, my dear Watson
Some advantages of mobile design are likely quite obvious, even for those with just a passing knowledge of website technology. Most people understand that no one wants to read War and Peace on a five inch screen. Text passages need to be short and to the point. Graphics must be easily viewable in a small format. Each element of the webpage needs to be understandable, effective and enjoyable on a stand-alone basis. Having a website redesigned to be as impactful on a cellphone as it is on a 50" TV is challenging but the rewards are great. Studies have shown visits to non-mobile optimized sites from pocket-sized devices last scant seconds before the visitor moves on, possibly to a competitor's pages. Mobile optimization enhances visitor engagement and keeps your potential clients on your site for  significantly longer periods.
Does it really work?
According to Huffington Post business blogger, John Rampton, when he converted his own website to make it mobile, he noticed immediate impacts.
"My mobile conversion (people contacting me) tripled overnight as well as people coming to my site doubled. I've also worked with several clients that have had similar results."
Where can I get me some of that responsiveness stuff?
If you fear your 'old timey' website lacks mobile responsiveness, you should consider calling your IT department or contract web design/hosting company for their professional opinion. According to Mike Kuefler of the Alberta-based web design firm, Industrial NetMedia, being mobile friendly is no longer an option.
"We design every new website we build to be equally attractive no matter what type of device is being used, as a matter of course. The days of the strictly desktop design have gone the way of the five inch floppy."
For a quote on mobile responsiveness, call Industrial NetMedia at 780-739-5850 or visit them at www.inmca.com.