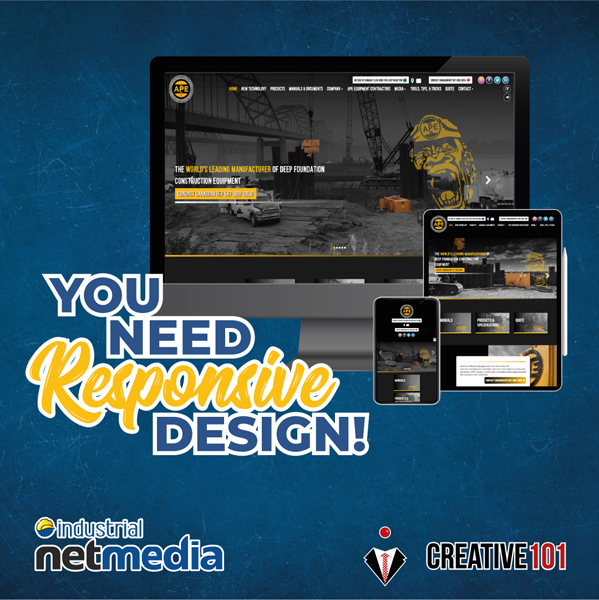 Mobile Responsive Design...
What it is and why your website should have it.
Tuesday, September 28, 2021
You may be wondering what Responsive Website Design is or why it's so important...
Basically, responsive design refers to your website viewing properly on all devices. Websites will typically be designed to be viewed on a desktop computer but it won't necessarily display perfectly on a mobile device, for example. INM includes this feature with all the websites they build. We ensure that as the screen size changes, your design will scale properly. This will increase the chance that people will be able to find what they're looking for and enjoy their visit to your website.
In the past, designers would create multiple websites for different screen sizes. Today, we can design one website that scales up or down automatically, depending on which device is being used. We will adjust the text size or where photos appear, to optimize the look of your site whether it is on a desktop, a laptop, tablet or any mobile phone. We can have links, buttons or any other element on your site, adjust for any device, without worrying about how it will look on each screen.
There are many good reasons to make sure your website is mobile responsive:
With so many people using cell phone or tablets, it's important that your site be viewable across as many devices as possible. If it scales badly, that may make customers leave your site.
Mobile-friendliness is a ranking factor in Google's search engine algorithms. If your site is mobile-friendly, your business is more likely to be ranked higher than others that are not.
Changes can easily be made to your website. They only have to be done to one design and will be automatically updated on whichever device is being used.
A website that works well on every device will appear more professional. A users experience is very important to your business. If text doesn't scale nicely, photos are not sized properly or are the wrong resolution, it looks unprofessional. In order to sell your products or services, you will not want potential customers to get frustrated while on your website.
With responsive design, your visitors get a much better experience, which can help convince new customers to work with your company.
visit our website to see a portfolio of the responsive websites we've made.
Give Industrial NetMedia/Creative101 a call today at 780-739-5850 to start building your mobile responsive website.
If you already have an older website that needs new features like this, we would be happy to give it an upgrade. Our system has a lot to offer for marketing to your new customers.